Types of Sofas: A Comprehensive Buying Guide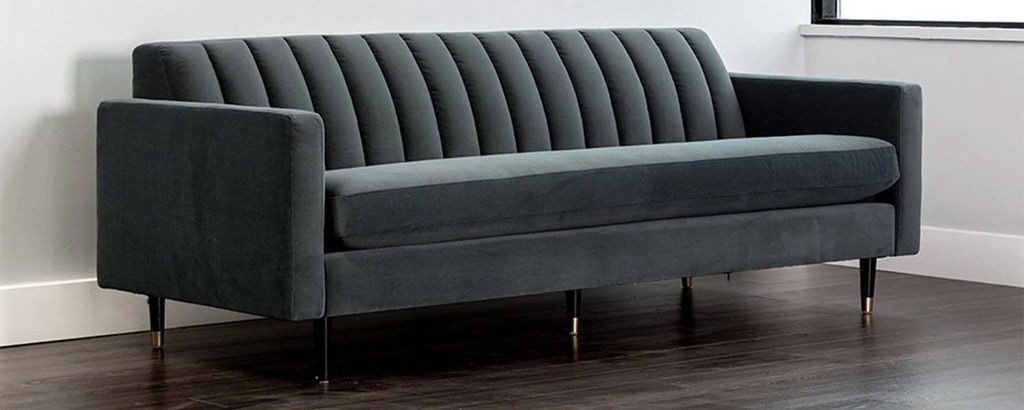 Featured: Tirur Sofa - Grey
A comfortable sofa is the number one element required to create an inviting living room. This is where everyone sits to relax, kick back and indulge in their movie marathons. With so many types of sofas to choose from, finding the right one for your space can sometimes feel overwhelming. To get inspired, read on to see the most popular types of sofas.
Sectional sofas
Featured: Brackley 7 Seater Sectional with Round Side Table
Sectional sofas have multiple modular components. Offering ample amount of seating space and variety of seating arrangements, this type of sofa is a great option for a family or someone who regularly hosts guests. Sectional couches are usually seen in these configurations: 
· L-Shaped sectional
The L-shaped sectional is most commonly placed in a corner of the living room. This position makes efficient use of space. If multi-functionality is important to you, consider a Sleeper Sectional. With a sleeper sectional, you can lounge on the cushioned seats, or convert it into a pull-out bed for overnight guests when needed.
· Chaise sectional
This sectional has a chaise at one end of the sofa that can be placed on the right or left side. The chaise sectional offers plenty of seating for movie nights, while the elongated chaise can be used to kick back when you want a little more relaxation.
· U-Shaped sectional
With a centre sofa and two sofas on either side, the U-shaped sectional offers plenty of seating. Perfect for hosting, this type of sofa adds a touch of style and substance to larger spaces. Plus, no one will need to fight for a spot!
Sectional sofas are a highly versatile option. However, they're best suited for larger living rooms as they take up much more space than a standard sofa. Anyone who needs the option to change and customize their sofa should put this type of sofa high on their list.
Reclining sofas
Featured: Aran Genuine Leather Power Reclining Sofa
If comfort is high on your wishlist, then consider a reclining sofa. Imagine coming home from a long day of work, and then kicking up your feet on a plush couch – that's what a reclining sofa is for.

A recliner sofa reclines when someone lowers the chair's back and raises its front. Lounging on one actually relieves stress – reclining your body rests your spine and elevates your legs. This position helps relax your mind and body.

Some of the most popular types of recliner chairs and sofas include power recliners and manual recliners. With a power recliner, all you need to do is press a button to move your body into a comfortable, lounging position. On the other hand, a manual recliner responds to the force of your body or when you pull a lever.

Aiming for comfort doesn't mean you have to ditch style. These days, reclining sofas combine both comfort and visual appeal. Gone are the days of big and boxy reclining sofas; you can now find them in all colours, sizes and materials. To complement a modern living room, consider the Rosslare Power Reclining Sofa. This recliner sofa is sure to provide comfort and style for every member of your family.
Loveseats
Featured: Embellishment Velvet Loveseat - Blush
If you have a small living room, a good option to think about would be a loveseat. A loveseat is a small couch that accommodates up to two people. With its tidy and compact size, these types of sofas are ideal for condos or apartments.
Embodying a sense of timeless charm, the Ryo Loveseat is a great, classy option for your home. Designed to express elegance and comfort with its green velvet upholstery, it will definitely be love at first sit. 
While loveseats fit two people perfectly, they do come in a range of different lengths. Here are their average lengths, measured from arm to arm:
Small loveseats: 52 inches
Medium loveseats: 58 inches
Full loveseats: 64 inches
Loveseat sofas: 71 inches
Loveseat sofas can fit anyone's décor or style, as they're available in several colours and materials. For a more luxurious and upscale vibe, go for a leather loveseat. If you're looking for something more cozy, pick a fabric loveseat such as the Ryo Loveseat.
For added comfort, consider ottomans. If your space is smaller, choose an ottoman with storage or one that can double as a coffee table or extra seat. The Eponine Ottoman is an ideal piece to have to serve snacks and beverages or to store coffee table books.
Sofa bed
Featured: Adelia Fabric Queen-Size Sofa Bed
For those who frequently have guests, sofa beds are a convenient option, creating a comfortable extra sleeping arrangement. These sofas are available in a wide variety of luxurious styles and materials, including leather and quality fabrics. Your guests will be surprised to learn that your chic sofa doubles a comfortable bed.
Adelia fabric queen-size sofa bed is a perfect example of a modern and stylish sofa bed. Enjoy some serious lounging as you sink into its high-density foam cushions. Pull out a comfortable queen-size bed from the sofa base for your guests at the end of an evening.

There are many different types of sofas, maybe even more than you would've imagined! When deciding on which sofa to buy, think about how many seats you need and what your must-haves are – that might mean style, comfort or having the freedom to reconfigure it.
Browse the sofa and sectional collection for more inspiration on the type of sofa that best suits your needs.