Buyer's Guide to Choosing the Best Dining Table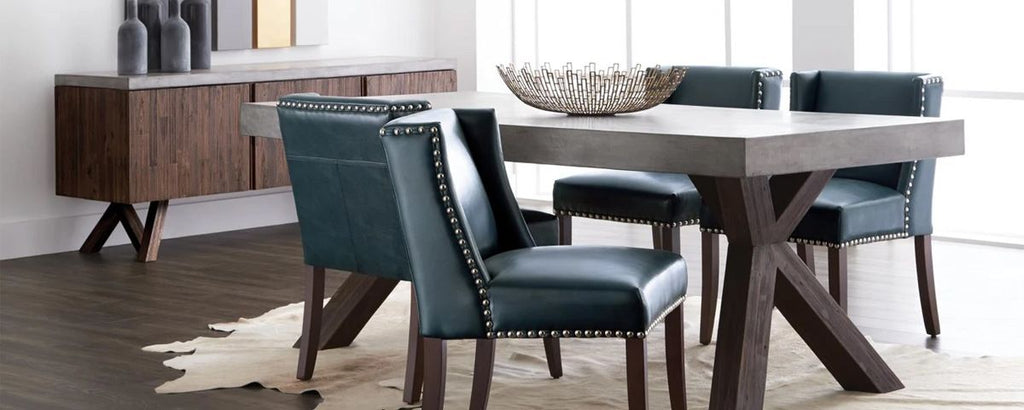 Featured: Tuni Rectangular Dining Table
All homes need a dining room table, but not every dining room table is suitable for every home. Some families may need something that's customizable and can grow or shrink depending on the occasion. Other people might just need a small two-seater, perfect for condo living.
No matter what, the best dining room table for you is going to depend on a lot of personal factors, not just the latest trends or styles. Taking time to think about dining room furniture will allow you to invest in quality pieces that will last you a long time. By considering your lifestyle and needs, the following tips will help you find a table that will not only look stylish, but will benefit your life on a day-to-day basis.
Featured: Konto Industrial Dining Table - Antique Walnut / Gunmetal Grey
Function & Frequency
Before you begin your hunt for brand new dining chairs and a table, think about how you'll be using it. How often you spend time at the table will play a huge part in your decision making process.
If you want a roomy, spacious feel, opt for a large table that's constructed with sturdy materials such as solid wood. A table that's designed to withstand heavy use is necessary, especially if you plan to use it often for years to come. An extendable dining table offers you the option to accommodate a few more seats if needed.


If you plan to only use your dining table for holidays or special occasions, such as Thanksgiving, consider dining tables made with the aforementioned solid wood, natural stone, concrete or a mix-material table. These upscale dining tables will add a sense of lavishness to your space.
Featured: Aketi 71" Dining Table - Off White
Dining Table Materials & Maintenance
Keeping your dining table in great condition requires regular cleaning and maintenance. It's important to properly maintain it so it can be enjoyed for many years. The method and frequency of caring for your table depends on its material type.
Wood dining tables: Dining tables made with

hardwoods

such as oak, walnut and teak are great options because of their durability. To clean any spots on your table, all you need are some microfiber cloths, water and gentle dish soap.


Marble dining tables: These tables are a popular choice because of their natural beauty and ability to fit into different home designs. A

marble dining table

should be cleaned every day with a non-abrasive cloth and a mild dish soap and water. Even if your table has already been sealed, you should re-apply a sealant at least once a year.



Glass table top dining tables: To add a modern and airy feel into your dining room, consider a dining table with a

glass table

top. An advantage of these tables is that they are highly resistant to heat and moisture. Make sure the table top is made with tempered glass – this will make it less prone to scratches and breakage.
Featured: Chioggia 71" Glass Dining Table
Read The Room
If you want to introduce a formal or relaxed atmosphere in your dining room, the shape of your dining table will play a big part in influencing the overall vibe within the room.
Rectangle: People tend to gravitate to rectangular dining tables and since most dining rooms are rectangular, these tables fit in well. Rectangular tables are also well-suited for formal dining rooms.


Square dining tables are a great option for smaller groups. These tables feel less formal than rectangular ones and provide a greater sense of intimacy.


Round: To create a cozy and relaxed environment, choose a round dining table. Family members can see each other better with a round table, which makes the flow of conversation much easier.


Oval: Even though they are similar to rectangular tables in many attributes, oval dining tablesoffer a more airy and relaxed feeling with their curved edges. An oval dining table is a good option for creating a laid-back, casual environment.


Both shape and height are important factors to consider when picking out a table. For example, round or square shaped tables will require different dimensions than rectangular or oval shaped tables.

Table height, meanwhile, can be broken up into three categories: dining height (29" - 31"), counter height (36") and bar height (41"-41"). You'll probably want to stick with dining height.
Find What Works for You
The dining room is where you'll spend plenty of quality time with your loved ones during holidays, birthdays, or simply weekday dinners. With delicious food, a comfortable dining set and engaging conversations, you'll be sure to make great memories.
Featured: Zinna 5-Piece Dining Package - Grey
For more dining tables, browse our wide selection of dining room tables, chairs, sets and more.