Upholstery 101: Choosing the Right Fabric Options for Your Sofa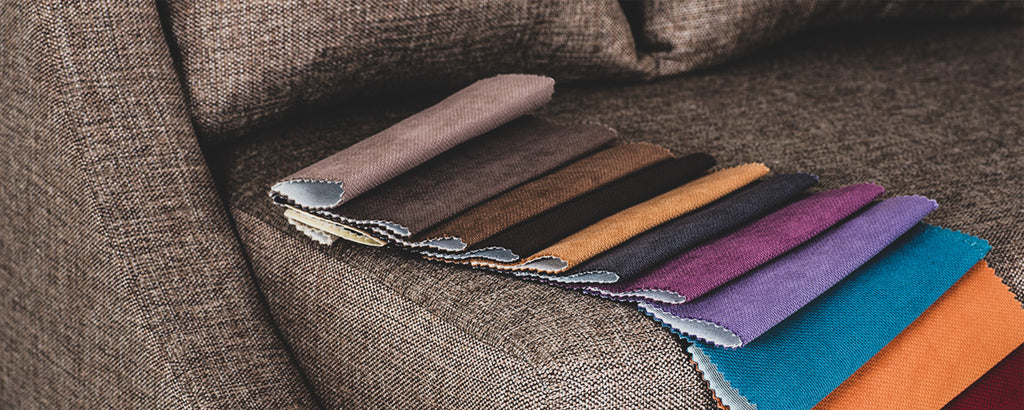 Your sofa is likely the focal point of the living space of your home, tying your space together and inviting family and friends to congregate. Investing in a sofa that complements the aesthetic of your home, but that will also suit your lifestyle is vital to ensuring its longevity and functionality. While leather sofas seem like the perennial favourite, there's a lot of merit to choosing a fabric sofa and weighing your upholstery options. Fabric sofas are generally more affordable, versatile and durable than their leather counterparts, but it pays to consider the practicalities of different kinds of upholstery options. This ensures that you choose the right fabric for your home and lifestyle, so you can sit, lounge or sprawl comfortably in the years to come. 
Before getting into how to choose the best fabric options for your home, let's start off with some upholstery basics.
Upholstery 101
Upholstery, simply put, is the work of attaching padding, cushioning and fabric to a furniture frame. The colour, texture and pattern of the fabric can dramatically change the identity of a piece of furniture, and upholstering can be a great option to breathe new life into an older piece of furniture that needs a refresh. While the interiors of the upholstering process, such as the padding and cushioning, cannot be seen, they are vitally important to ensuring the comfort and ergonomics of the piece of furniture. Upholstery, done properly, is very important in creating a first and lasting impression of your furniture, and ensuring that it complements the rest of the furniture and décor in your home. It's also important that any upholstery fabric you choose suits your lifestyle.
Making the Right Choice
When it comes to choosing the right material for your piece of furniture, let your practical instincts lead the way. First and foremost, you should consider the purposes this piece of furniture will serve. Upholstery fabric for chairs in the dining room, or for a sofa in the living room should be durable and easy to clean.  If, however, you're looking for a bedroom bench or upholstered headboard (that is, furniture not used often in low-traffic areas of your home), the world is your upholstery oyster. 
Some factors to consider when choosing fabric can include: durability, style, colour, whether it's child and pet-friendly, allergies, and mildew and fade resistance, amongst others. Consider your lifestyle: who will use this piece of furniture and how will it be used? It's also important to consider the longevity of the fabric and how it will age over time. Always ensure to inquire into the fabric's material composition and cleaning needs. This is a good indication of how it will look in the years to come, and how much work is needed for its upkeep. 
Child & Pet Approved
Much like furniture options, there are a myriad of different style options for fabrics, and you often won't have to compromise what looks good for durability. There are, however, certain fabrics that are better suited for households that have children, pets and the occasional red wine lover. Faux suede, denim or thick canvas materials are great options, because they're durable and easy to clean. They also come in a wide variety of colours and styles, guaranteeing that you'll find something that complements both your style and home (all whilst saving you from a nightmare cleanup). As a general rule of thumb, fabrics with a tight weave are more durable, and darker colours will help to disguise any dirt or stains until you have a chance to clean. Many modern fabrics will work in a busy household, but aim to keep delicate fabrics, such as silk or velvet out of high traffic areas as these fabrics aren't as forgiving when it comes to wear-and-tear, and stains. 
Great Fabrics for the Great Outdoors
You'll want to ensure that your outdoor furniture looks just as pristine as your indoor furniture, and fabrics have a big role to play in that. Outdoor furniture, such as cushions and pillows, will be exposed to wind, moisture, and hot and cold temperature fluctuations. Thus, it's important to look for water-repellent or waterproof fabrics that are also fade resistant so that rain and sunlight don't damage them. 
Ideal fabrics for outdoor furniture include: cotton canvas, which is heavy-duty and durable. Its fibres can be easily dyed, so you have a wide spectrum of colour options, and can even opt to dye it yourself for an extra personal touch. Textilene fabric is woven polyester coated with PVC, and is waterproof, fade resistant, mold resistant and flame retardant. Similarly, olefin fibre and vinyl are other synthetic fibre options that are similarly resistant to fading and mold buildup. 
Luxurious Living
If messy children and pets aren't a concern for you and your household, be sure to flaunt your fabric freedom by opting for more decadent options. These can include everything from Tibetan wool, to light-coloured linen, silk and velvet. Of course, these materials still require care and discretion. It would probably not be wise to opt for a silk sofa or chairs in a high traffic, often used area. However you may consider using luxe fabrics for accent cushions or ottomans in this space, rather than for an entire piece of furniture. This affords you the aesthetic, but offers the flexibility to swap out for something newer when they become dated.
Whether you're looking to purchase a new sofa or chair, or to refresh an old piece, upholstering can be a great option and alternative to leather. Fabric tends to be cheaper, easier to maintain and durable making it a great alternative for children or pet-friendly homes, or for those looking to switch things up now and then with slipcovers. There are many upholstery fabric options in Canada for chairs, sofas, headboards, and any other piece in your home, in a wide spectrum of styles to suit any home on any budget. 
Links